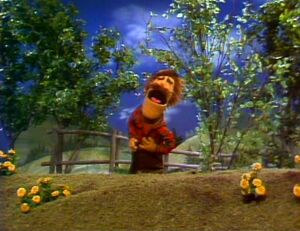 Big Bird puts his clothes in a washing machine, but doesn't turn it on.
Cartoon: A mouse tries looking to find his pet, describing to his friend what they did yesterday. (EKA: Episode 1018)
Ernie talks about what happens next when he throws a rubber ball, a glass and a watermelon over the wall. (First: Episode 0148)
Maria teaches Big Bird how to use the washing machine.
Cartoon: A girl imagines a sofa becoming different objects. (EKA: Episode 0956)
Maria talks about underground places, like a subway station, coal mine, and car tunnel.
Cartoon: What would happen if a rabbit and a turtle switched their appearances? (EKA: Episode 0801)
Film: electric meter reader
Ad blocker interference detected!
Wikia is a free-to-use site that makes money from advertising. We have a modified experience for viewers using ad blockers

Wikia is not accessible if you've made further modifications. Remove the custom ad blocker rule(s) and the page will load as expected.