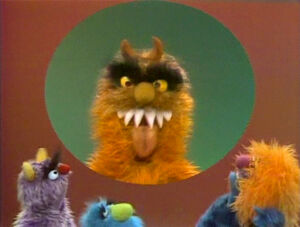 Cartoon: Little girl and cat (she imagines role reversal) (EKA: Episode 0815)
Cookie Monster: Herbert Birdsfoot invents a complicated machine, to test Cookie Monster's problem-solving abilities. Cookie Monster needs to pull the string to raise the glass cover off the plateful of cookies at the other end -- but when he lets go to retrieve the cookies, the cover will fall again. Herbert hears Cookie Monster approaching, and hides to observe him. Cookie investigates the machine for a moment, then gets the cookies by karate-chopping the glass cover. (First: Episode 0132)
Oscar learns a few "grouch" words in sign language.
Song: "Standing in Somebody's Shoes"
Linda, Bob, and children "mirror" one another's movements.
Big Bird plays the "mirror game", but later gets tired of it.
Ad blocker interference detected!
Wikia is a free-to-use site that makes money from advertising. We have a modified experience for viewers using ad blockers

Wikia is not accessible if you've made further modifications. Remove the custom ad blocker rule(s) and the page will load as expected.