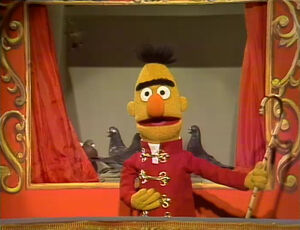 Cartoon: A boy wonders what would happen if his best friend was a gorilla. (EKA: Episode 0598)
Ernie and Bert: Ernie comes home to a sleeping Bert and tries to think of things to do that won't wake him up. He can't watch TV, and he can't play with his ball. Bored, he decides to take a nap too -- but then he starts to snore. This awakens Bert, who wonders out loud where the noise is coming from, in the process arousing Ernie, who gets mad at being woken up. (First: Episode 0280)
Cartoon: Two kids wonder where some mysterious tracks on the ground come from. (EKA: Episode 1056)
Linda and an announcer use sign language to tell the story of the fisherman and the fish. (EKA: Episode 1020)
Big Bird and Grover wait for the sun to come out.
Cartoon: Two groups of mountain goats try to pass each other on a mountain road. (EKA: Episode 0810)
Four people are added and subtracted.
The Martians discover a grandfather clock and wonder if it's an earth person. They consult their book, which says an earth person is tall, has a face, and has hands. The clock fits the description perfectly! (First: Episode 0407)
Everybody on Sesame Street goes up to the roof to be alone.
Everyone relaxes on the roof.
Ad blocker interference detected!
Wikia is a free-to-use site that makes money from advertising. We have a modified experience for viewers using ad blockers

Wikia is not accessible if you've made further modifications. Remove the custom ad blocker rule(s) and the page will load as expected.