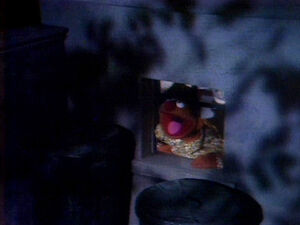 Ernie & Bert — A tough guy named Tough Eddie accidentally knocks over Bert's sand castle while he's sleeping. Ernie points that out to Eddie, and Eddie tells Ernie, in a threatening tone of voice, that he's "got something" for Bert. It turns out to be an ice cream cone. (EKA: Episode 0597)
Children paint pictures of the things that make them feel happy.
Ernie & Bert — Ernie tries to figure out what time it is at night. It's too dark to see the clock, so Ernie has a new solution: he pokes his head out the window and sings some loud, off-key opera ("O SOLE MIO, O SOLE YOU-OH") which causes everyone to wake up and yell at him to stop singing, and even mention what time it is. It's 3:00 AM.
Ernie & Bert — Ernie can't sleep, so Bert tells him to count sheep. Ernie tries to count sheep, but it's dull -- so he starts counting fire engines. The noise from the imaginary fire engine wakes Bert up. Bert says that Ernie's waking up the whole neighborhood, and tells him to count something quieter. Ernie counts balloons -- but the balloon gets bigger and bigger, finally bursting with a huge explosion that wakes Bert up again. (First: Episode 0276)