Ad blocker interference detected!
Wikia is a free-to-use site that makes money from advertising. We have a modified experience for viewers using ad blockers

Wikia is not accessible if you've made further modifications. Remove the custom ad blocker rule(s) and the page will load as expected.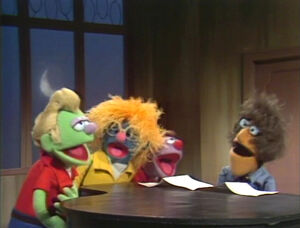 Grover: In this three-part sketch, Grover and a group of monsters, including Herry Monster, Fenwick and Billy, get into a rowboat. In part one, the monsters all gather at one end, causing the boat to tip over. In part two, they gather on the other end, and the boat tips over again. In part three, the monsters spread out over the boat evenly and row away. (EKA: Episode 0877)
Animation: a red ball with dots tries to join a group of red balls with black stripes. (EKA: Episode 0839)
Ernie and Bert: Ernie is holding a banana in his ear. Bert tries to tell Ernie that he has a banana in his ear, but Ernie can't hear him because he has a banana in his ear.
Grover volunteers to assist the Amazing Mumford with his suspension act. Grover will get on top of a platform, and Mumford will pull the pillar off from underneath, and the platform will not fall. The trick works, so Grover decides to try it himself, with Herry Monster as his assistant. Grover can't pull it off, and Herry falls. (EKA: Episode 0332)
Cookie Monster: Cookie Monster goes to the bakery for a special birthday cookie. The baker lists all the ingredients of the cookie, as Cookie visualizes it. The visualized image looks so delicious that he eats it. (EKA: Episode 0428)
Ernie and Bert: Bert says he's too cold, so Ernie goes overboard to get him warm by putting layer after layer of clothing upon him. This makes him too hot, so Ernie gives Bert an ice bag, opens the window and brings his electric fan. (EKA: Episode 0529)