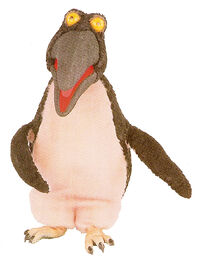 Plot
Stinky decides to teach the guests how to fly.
Segments
Opening
That's Amazing: The world's biggest egg
Guest: Charlotte the Penguin
Baby Talk: Penguin chicks learn to fly
Song: Follow Me
Tizzy's Quiz: Can penguins move as fast as people?
Yves St. La Roache: how to catch fish in a bowl, but all Yves can catch is junk
Guest: Clive the Kiwi from New Zealand
Song: Clive sings The Kiwi Song
Animal Awards: Which is the silliest penguin?
Story: Martin the Elephant seal wishes for a bigger snout
Habitat Time: Antarctica
Tizzy's Quiz: Which animal doesn't have whiskers?
Closing
Performers
Ad blocker interference detected!
Wikia is a free-to-use site that makes money from advertising. We have a modified experience for viewers using ad blockers

Wikia is not accessible if you've made further modifications. Remove the custom ad blocker rule(s) and the page will load as expected.