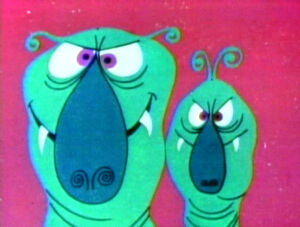 Cartoon: A man thinks about small things, and lists them. A sea monster thinks it is small, especially when compared to its father! (EKA: Episode 0271)
Animation: Drawing a chicken (child V/O in English and Spanish) (EKA: Episode 0838)
Cartoon: A housewife screams because there is a mouse in her house. Her husband's solution is to continually bring in animals to chase it out, with each animal making an even bigger mess than the previous one. (EKA: Episode 0266)
Oscar makes pet food, and feeds it to Slimey.
Ernie and Bert are watching TV, but Bert gets bored and decides to play a record. Ernie tells him to turn down the volume, but Bert won't, so Ernie drowns out Bert's music by playing the radio. Bert then retaliates by turning on the blender. With all four things running at once, they blow a fuse, causing a total blackout in their apartment. Bert goes outside to fix the fuse box, while Ernie turns off all the things that were running. When the lights come back on, they decide to play cards instead of fight. (First: Episode 0003)
Ad blocker interference detected!
Wikia is a free-to-use site that makes money from advertising. We have a modified experience for viewers using ad blockers

Wikia is not accessible if you've made further modifications. Remove the custom ad blocker rule(s) and the page will load as expected.