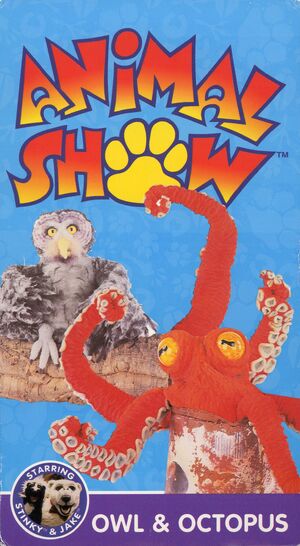 Plot
Stinky gives Jake a new pair of glasses so he could keep up with the guests of that day's show, the owl and the octopus (whom are both known for their great eyesight).
Segments
Opening
That's Amazing:The great gray owl's vision and hearing
Guest: Hillary the Owl
Baby Talk: Baby owls attempting to fly
Tizzy's Quiz: What do the cuttlefish, the octopus and the squid have in common?
Yves St. La Roache: Talking to your food
Guest: Octavio the Octopus
Song: Octavio sings Eye Spy
Animal Awards: Which bird can turn its neck around the farthest?
Story: Minnie the Squirrel's new friend
Habitat Time: Trees of the world
Tizzy's Quiz: Which animal has a beak?
Closing
Performers
Video Releases
Ad blocker interference detected!
Wikia is a free-to-use site that makes money from advertising. We have a modified experience for viewers using ad blockers

Wikia is not accessible if you've made further modifications. Remove the custom ad blocker rule(s) and the page will load as expected.