Episode 1136
Talk

0
27,141pages on
this wiki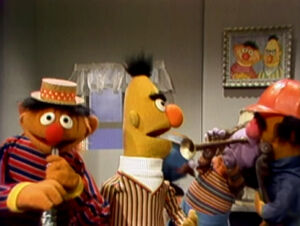 Everyone is too busy to play with Big Bird.
Snow White visits the house of the Six Dwarves; she has to count them several times before she realizes that she's in the wrong house. (First: Episode 0279)
Cartoon: Julius holds up an apple and asks Jasper if he can describe it. Jasper does so while eating it, ending with "gone!" (EKA: Episode 0833)
Jugglers Paul and Michael set up bowling pins for Oscar.
Ernie and Bert: Bert finds it difficult to listen to Pigeons in the News while Ernie and the Sesame Street Citizens' Band are outside practicing. In yet another case of miscommunication between the two, since Bert doesn't like it when they practice outside, Ernie leads the band into the apartment so they can practice inside.
Big Bird wants to know what Cody will be when he grows up.
Sign Cartoons: A man reads the words "KISS ME", and gets licked by a large dog.
A friend of Mr. Hooper's brings her neighbor's child to the store.