Ad blocker interference detected!
Wikia is a free-to-use site that makes money from advertising. We have a modified experience for viewers using ad blockers

Wikia is not accessible if you've made further modifications. Remove the custom ad blocker rule(s) and the page will load as expected.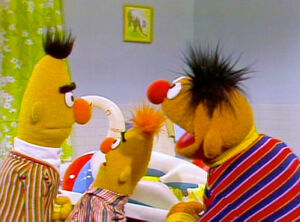 Animation: a red ball with dots tries to join a group of red balls with black stripes. (EKA: Episode 0839)
A Muppet boy tells his mother that a robber spilled his glass of milk. (EKA: Episode 0270)
Cartoon: A man tells a confused boy that he saw a bird on a tree, with both of their thoughts appearing on the screen. (EKA: Episode 0814)
Big Bird thinks of words that rhyme with "two" so he doesn't forget to meet Luis at two o'clock.
Ernie and Bert: Bert is preparing to give his nephew Brad a bath, but Ernie chastises him for not providing any bath toys. He brings so many toys that Bert feels there is no longer room for Brad. So as not to waste the water, Ernie hops into the tub.
Song: "The Three Musketeers"
Ernie and Bert: Ernie won't let Bert into the apartment. At first, Bert is sad -- but then he thinks Ernie might be hiding something, which makes him mad. He demands to be let in -- and finds that Ernie has thrown him a surprise party. (EKA: Episode 1060)
Count von Count: As ominous music plays, the Count walks around his castle, checks out the mirror (he has no reflection), and greets his bats. The mailman (Jim Henson) comes with a bunch of letters for Count. The mailman wonders why there are so many letters. The Count says that he wrote them all himself, so he could count them... and he does! (EKA: Episode 0592)