Episode 112: The Finger of Light
Talk

0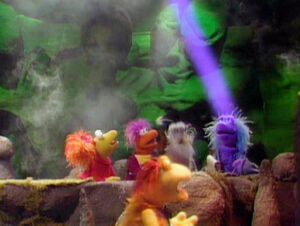 It's Ruler of the Rock Day, and the World's Oldest Fraggle leads a team of Fraggles in a game. Whoever is chosen by The Finger of Light becomes the Ruler of the Rock and gets to issue three commands for the betterment of all. When Mokey is chosen by the Finger of Light, she learns about the responsibility that goes along with great power.
Meanwhile in Outer Space, Doc rigs up a loudspeaker to broadcast music all over the neighborhood, in hopes of enhancing plant growth and generating "radishes the size of pumpkins."
Fraggle Facts
The World's Oldest Fraggle is obviously greatly respected by the Fraggles, but he's not their leader. His role seems to be mostly ceremonial; he presides over games and leads meetings a lot, but he doesn't make rules for anyone. The Fraggles are their own leaders, and nobody is the boss.
Notes
This episode marks the first appearance of two recurring characters, the World's Oldest Fraggle and Marlon Fraggle.
Songs
Supporting Cast
Video releases
International episode titles