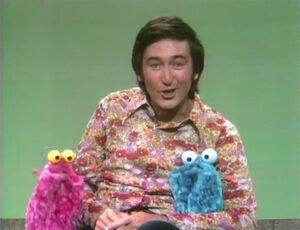 Ernie and Bert: Ernie has gone shopping -- buying bread for himself, and peanut butter for Bert. They realize that it's dull to eat what they have separately, and they decide to cooperate, so they can each have a peanut butter sandwich. (EKA: Episode 0330)
Little Bird plays an imagination game, closing his eyes and imagining he hears sounds. At the end of the game, he imagines that he hears a scary monster -- and when he opens his eyes, Herry Monster is there, growling at him. (EKA: Episode 0198)
Cookie Monster: At a library, Cookie Monster asks an Anything Muppet librarian for various books...and a box of cookies. Ultimately, he asks the librarian for just a box of cookies. The librarian becomes extremely frustrated because Cookie Monster doesn't understand the library doesn't have cookies! Cookie finally asks for a book about cookies...and a glass of milk! Then - since the library doesn't have milk, either - Cookie asks for a book about cookies and a glass of juice... (EKA: Episode 0897)
Cartoon: A caveman finds a rock on the ground, and visualizes the invention of the wheel and the car, ultimately deciding to toss the rock away: "Who needs it?" he says.
Bob sings "Golden Slumbers".
Cartoon: A man finds a way to move his house closer to a log. (EKA: Episode 1109)
Cody is too small to fit into a sweater given to him by Big Bird.
Cartoon: finding a parrot camouflaged around its tropical forest setting. (EKA: Episode 0815)
Buffy sings a song called "Piney Wood Hills".