Ad blocker interference detected!
Wikia is a free-to-use site that makes money from advertising. We have a modified experience for viewers using ad blockers

Wikia is not accessible if you've made further modifications. Remove the custom ad blocker rule(s) and the page will load as expected.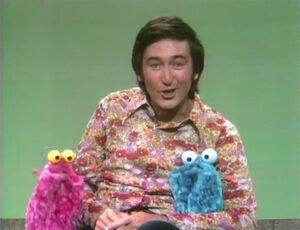 Ernie and Bert: Ernie has gone shopping -- buying bread for himself, and peanut butter for Bert. They realize that it's dull to eat what they have separately, and they decide to cooperate, so they can each have a peanut butter sandwich. (First: Episode 0279)
Little Bird plays an imagination game, closing his eyes and imagining he hears sounds. At the end of the game, he imagines that he hears a scary monster -- and when he opens his eyes, Herry Monster is there, growling at him. (EKA: Episode 0198)
Cookie Monster: At a library, Cookie Monster asks an Anything Muppet librarian for various books...and a box of cookies. Ultimately, he asks the librarian for just a box of cookies. The librarian becomes extremely frustrated because Cookie Monster doesn't understand the library doesn't have cookies! Cookie finally asks for a book about cookies...and a glass of milk! Then - since the library doesn't have milk, either - Cookie asks for a book about cookies and a glass of juice... (EKA: Episode 0897)
Cartoon: A caveman finds a rock on the ground, and visualizes the invention of the wheel and the car, ultimately deciding to toss the rock away: "Who needs it?" he says. (EKA: Episode 1049)
Bob sings "Golden Slumbers".
Cartoon: A man finds a large log that's perfect for his fireplace, but finds it too heavy to move. So, he moves his house to the log. (EKA: Episode 0939)
Cody is too small to fit into a sweater given to him by Big Bird.
Cartoon: finding a parrot camouflaged around its tropical forest setting. (EKA: Episode 0592)
Buffy sings a song called "Piney Wood Hills".