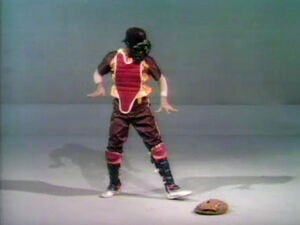 Big Bird wants to migrate to the south for the winter.
Animation: a girl explains that a snowman can't be made out of ice or sand. (EKA: Episode 1019)
Film: kittens playing, with child voiceovers in English and Spanish.
Song: "I Used to Be One of the Little Kids"
"Sluggo the Great" (David) puts on his baseball gear, but isn't sure which body parts to put them on. (EKA: Episode 0811)
Film: in the woods, a lumberjack yells "Timber!", and unexpectedly causes a match to fall over instead. Later, in another film, the lumberjack's "Timber!" brings down a tree that somehow springs back up.
David wants the mailman to deliver a sandwich to Maria.
David delivers a sandwich to Maria in a unique way.
Buffy sings "Quit Kickin' My Dog Around" with a Muppet dog.
Big Bird has a nightmare.