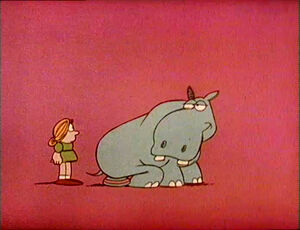 Three Anything Muppets (including George) individually try to sell lemons, water, and sugar. After all of their businesses fail, the three cooperate to start a lemonade stand.
Olivia and children scrub crayon marks off the wall.
Ernie and Bert: Ernie comes from finishing his bath, and tells Bert that there's something that he forgot. Bert asks if he's washed behind his ears, his neck, and his elbows. Finally, Ernie remembers that he forgot to turn off the water in the tub -- as the water level rises. (EKA: Episode 0347)
Cody makes a big mess eating his lunch.
Cartoon: Solomon Grundy washes different body parts on each day of the week. (First: Episode 0001)
Cartoon: A stubborn hippo sits on a girl's ball, and she tries to figure out how to get it back.
Bob and children scrub crayon marks off the mailbox.
Big Bird has a solution to stop Cody from writing on the walls.
Film: A boy narrates a film about how cheese is made.