Episode 1123
Talk

0
27,143pages on
this wiki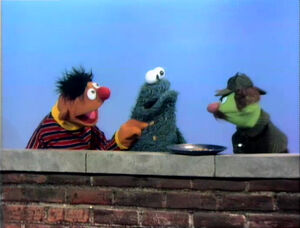 In "A Postcard from Amy," Grover reads a postcard he got from his friend Amy. The message on the card is passed around from person to person, getting more and more mixed up, until everyone is led to believe that Amy is in the hospital! (First: Episode 0796)
Someone has eaten Ernie's cookies, and Sherlock Hemlock investigates the case. He asks Ernie questions about the cookies, when Cookie Monster comes by with cookie crumbs on his fur. Sherlock interrogate Cookie Monster, and he comes to the conclusion that Cookie is the theif. Cookie Monster admits it, saying that he is full now and gives Ernie the last cookie, but Sherlock ends up taking it as payment.
Cartoon: A child imagines he has big feet and can wear his father's shoes. (EKA: Episode 0514)
Mr. Hooper gets a new frying pan, and everyone wants something different to eat.
Cartoon: A girl picks up a stick and imagines she is a circus magician, a conductor, and a baseball player. (EKA: Episode 1106)
Cartoon: A pitcher demonstrates the many uses of water. (EKA: Episode 0179)
Cartoon: A pitcher demonstrates the many uses of water. (Spanish version)