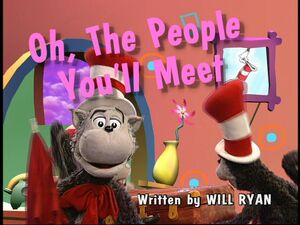 It's moving day, and no one is more bummed than Julian Jeremy Jaroo Jalloo. But when The Cat in the Hat appears, Julian is whisked away on a magical elevator ride to meet all (or as many as he can meet in 24 minutes) of the interesting and whimsical people who may be in his future.
Songs
Video releases
Ad blocker interference detected!
Wikia is a free-to-use site that makes money from advertising. We have a modified experience for viewers using ad blockers

Wikia is not accessible if you've made further modifications. Remove the custom ad blocker rule(s) and the page will load as expected.