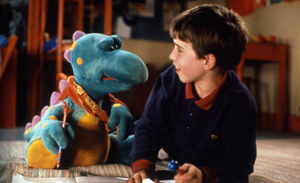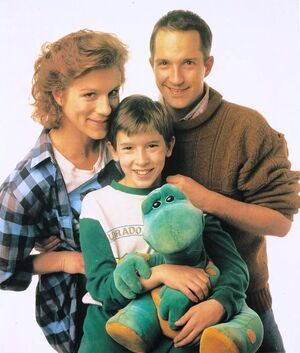 Living With Dinosaurs is a television special that originally aired in the UK on December 30, 1990. "Living with Dinosaurs" was written by Anthony Minghella, and directed by Paul Weiland, both of whom also worked on The StoryTeller.
In the special, a socially awkward young English boy named Dom deals with his fears about his unemployed artist father, his pregnant mother, and his asthma, with the help of his favorite doll, a stuffed dinosaur named Dog.
After airing in the UK, the special was re-formatted to become an episode of The Jim Henson Hour, however the series was cancelled before the reformatted version (intended as episode #11) was able to air in the US; it was broadcast in the UK as an episode of the series.[1]
The reworked The Jim Henson Hour episode consists of the standard framing element of Jim Henson appearing in the digital environment speaking to the audience, and no MuppetTelevision segment to accommodate the "Living with Dinosaurs" story.
The original special (without Henson's bookends or The Jim Henson Hour titles) later aired on Nickelodeon in the US in 1993.
In 2000, a pilot script was written for a new series based on Living With Dinosaurs, but it was never produced.
Cast
External links
Sources