Ad blocker interference detected!
Wikia is a free-to-use site that makes money from advertising. We have a modified experience for viewers using ad blockers

Wikia is not accessible if you've made further modifications. Remove the custom ad blocker rule(s) and the page will load as expected.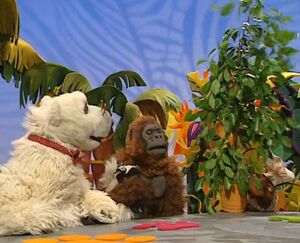 Plot
Stinky fears that he is the last skunk on Earth, so Jake encourages all the skunks watching to let him know he's not alone.
Segments
Opening
That's Amazing: Oxpecker bird
Guest: Harry the Rhinoceros
Baby Talk: Baby rhinoceros and mother
Tizzy's Quiz: Do gorillas live in trees?
Yves St. La Roache: A big meal for a big animal: baked potato w/melted cheese, a big popcorn ball, and watermelon
Guest: Lenny the Gorilla
Song: Lenny sings The Gorilla Song
Animal Awards: Which is the most endangered animal?
Story: An orangutan wishes for something to keep him dry from the rain
Habitat Time: Rainforest
Tizzy's Quiz: What is a rhinoceros's horn made of?
Closing
Performers
Video Releases