Episode 111: Catch the Tail by the Tiger
Talk

0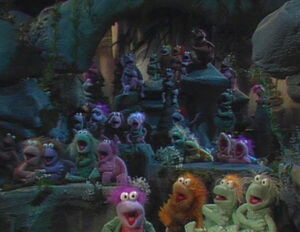 It's been two weeks since Uncle Matt's last postcard, and it's Gobo's responsibility to go out into Outer Space and rescue his uncle. He's terrified of going, and even Marjory the Trash Heap advises against it, but all of his friends expect him to go, and he's too proud to back out.
Meanwhile, Doc invents a Lightning Deflector for Sprocket in order to go for a walk in a thunderstorm.
Fraggle Facts
This episode reveals that Fraggles can catch such human diseases as Influenza, which is mentioned twice in this episode -- first by the Trash Heap, who casually attempts to soothe Gobo's fears as to the fate of his uncle by stating that "he may only have the flu." When Gobo finally does get his uncle's postcard, it turns out that Marjory was right -- Matt did catch and was recovering from the flu. Apparently, Influenza to a Fraggle is only about as serious as the common cold.
Songs
Video releases
International episode titles