Episode 1119
Talk

0
26,858pages on
this wiki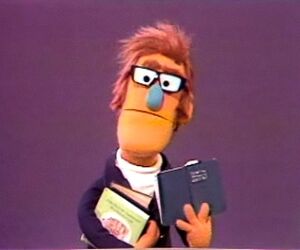 Film: A magnetic crane picks up scraps of metal.
Ernie and Bert: Ernie tries to put a pot on Bert's head. Bert asks Ernie why he's doing that, and Ernie says that he broke a cookie jar. Ernie has to put the cookies somewhere, so he put them in the sugar bowl – and put the sugar in the flowerpot, which meant that he had to put the flower in a milk bottle. He put the milk in the soda bottle, and the soda into the fishbowl, and the fish in Bert's cowboy hat. Bert asks, "Now what am I going to wear when I want to play cowboy?" Ernie puts the pot on Bert's head and says, "Ride 'em, cowboy, Bert!" (EKA: Episode 0279)
Lefty the Salesman sells Ernie some air, but when Ernie waves to Bert, wanting to show it to him, he drops it. According to Bert (who didn't know what Ernie had), "It couldn't have vanished into thin air." But Ernie sobs, "Yes, it could, Bert! It could!" (EKA: Episode 0118)
Grover pretends to be a fireman.