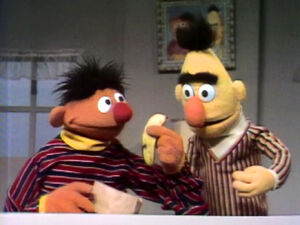 Big Bird gets his library card.
Cartoon: A shoemaker shows how he measures human feet with his ruler. (EKA: Episode 0760)
Big Bird selects a book at the library.
Cartoon: After a big basketball game, a bird skeleton and an elephant skeleton get their skins mixed up in the locker room. The coach helps them out. (EKA: Episode 0813)
Cartoon: A janitor sweeps up his own footprints the wrong way, then the right way. Just then, a giant centipede leaves tracks all over the floor. (EKA: Episode 0262)
Animation: Two small stripes watch as two circles play with each other. The stripes try to bend themselves into circles, but soon find that they can both cooperate to make one big circle. (EKA: Episode 0829)
Big Bird and David exchange library books.
Animation: Two lines join together to form a circle. (Spanish version)