Ad blocker interference detected!
Wikia is a free-to-use site that makes money from advertising. We have a modified experience for viewers using ad blockers

Wikia is not accessible if you've made further modifications. Remove the custom ad blocker rule(s) and the page will load as expected.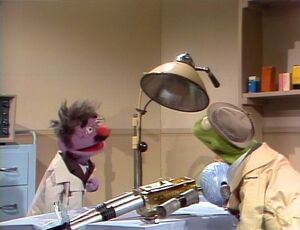 Cartoon: Two groups of mountain goats try to pass each other on a mountain road. (EKA: Episode 0810)
Cartoon: "The Fox and the Grapes" -- In the classic fable, a famished fox can't reach the grapes, and eventually gives up, assuming they're sour anyway. (EKA: Episode 0796)
Film: "At the Animal Doctor": Two boys take their dog to the vet. (EKA: Episode 1096)
Bert sits outside on the Street, pretending to fly an airplane. Maria sits down with him, and the segment becomes animated as they fly through the air and around the world before returning to the Street. (EKA: Episode 0720)
Cartoon: Ralph asks Marvin what would happen if he didn't have a mouth, a nose, and ears. (EKA: Episode 0831)
Joe Namath passes a football to a kid on the count of one.
Film: Footage of an animal auction, where they auction off animals to dairy farmers and the like. (EKA: Episode 1085)
Joe Namath passes a football to a kind on the count of five.