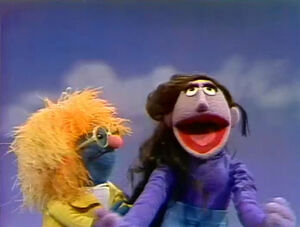 Cartoon: Batman and Robin attempt to capture the Joker, while teaching a lesson in crossing the street safely. (First: Episode 0090)
Cartoon: A man explains that the letter E begins both Enter and Exit. Another man named Roy runs through the doors. (EKA: Episode 0406)
Ernie and Bert: Ernie is painting a portrait of Bert, but paints Bert with curly hair, glasses and a beard. When Bert gets angry about this, Ernie takes him behind the easel and puts curly hair, glasses and a beard on Bert. (EKA: Episode 0683)
Film: Kids pick green beans in the field. Later their mom cooks the beans, and they eat them. (EKA: Episode 0995)
The Count forgets what number comes between two and four.
Fiddler Song: "Everybody is Different"
Mr. Snuffleupagus wants to show everybody the new striped overalls that his mother made for him. Bob sees Snuffy, and runs to tell everybody. Big Bird hears Bob's story, but decides that he couldn't have seen Snuffleupagus -- Snuffy doesn't have black and white stripes.
Ad blocker interference detected!
Wikia is a free-to-use site that makes money from advertising. We have a modified experience for viewers using ad blockers

Wikia is not accessible if you've made further modifications. Remove the custom ad blocker rule(s) and the page will load as expected.