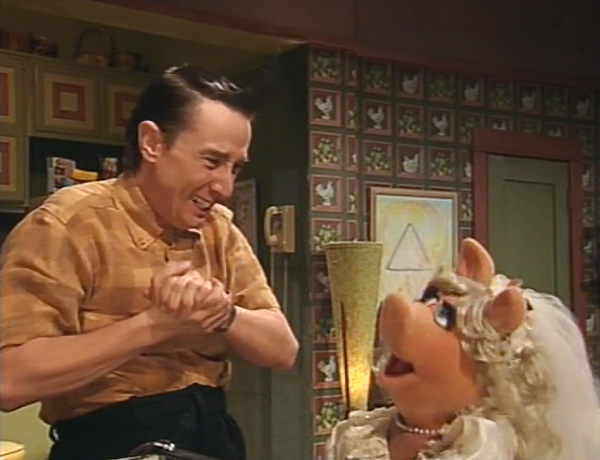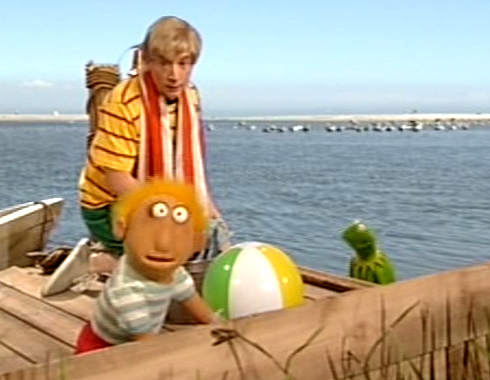 thumb|300px|Part 1 of the episode thumb|300px|Part 2 of the episode thumb|300px|Part 3 of the episode
Martin Short gets the short end of the shtick when Seymour and Pepe take him on an elevator ride that nearly flattens his chances of performing in the big dance number.
Skit Highlights
Trivia
Short appears as Ed Grimley and Irving Cohen, both characters who originated on SCTV, but who Short would reprise on Saturday Night Live and in a variety of later productions.
This episode was production number 102.
This episode was originally scheduled to air the week after Episode 106: Tony Bennett, but the show was then canceled and not shown again for a few months.
Performers
Cast
Muppets: Kermit the Frog, Clifford, Gonzo, Rizzo the Rat, Johnny Fiama, Sal Minella, Mama Fiama, Miss Piggy, Sam the Eagle, Statler and Waldorf, Seymour, Pepe the King Prawn, Andy and Randy Pig, Penguins, Bean Bunny, Fozzie Bear, Dr. Pain, Bobo the Bear, Snookie Blyer, Lester Tomwater, Magda, Penguins, Mr. Callahan, Polly Lobster, Clueless Morgan
Background Muppets: Carter, J. P. Grosse, Hopper, Afghan Hound, Ducks, Horse, Bunnies
Audience Muppets: Begoony, Big Mean Carl, Blustering Bellowpane Monster, Buster Bergman, Butch, Chickens, Chip, Crocodile, Frackles, Gnu, Large Marvin Fraggle, a Monkey, Ohreally Bird, Pigs, Rats, Quongo, The Newsman, Youknow Bird