Episode 110: Don't Cry Over Spilt Milk
Talk

0
Share
Ad blocker interference detected!
Wikia is a free-to-use site that makes money from advertising. We have a modified experience for viewers using ad blockers

Wikia is not accessible if you've made further modifications. Remove the custom ad blocker rule(s) and the page will load as expected.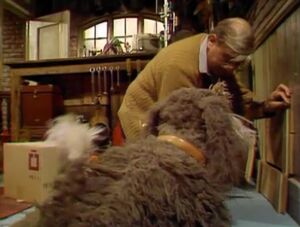 While Gobo is in Outer Space looking for Matt's postcard, Doc decides to board up the hole in the wall leading to Fraggle Rock. While Gobo dodges Doc and Sprocket, his friends launch a rescue mission. Mokey and Boober work on breaking the boards, while Red and Wembley try to rescue him by following Marjory the Trash Heap's advice: "Don't cry over spilt milk."
Notes
Songs
Video releases
International episode titles
Denmark: "Græd ikke over spildt mælk" (Don't Cry Over Spilt Milk)
Finland: "Gobon matka"
Germany: "Macht nichts, Gobo" (That's Alright, Gobo)
Japan: "ゴーボーの大ピンチ" (Gobo in a Big Pinch)
Netherlands: "Huil niet om gemorste melk" (Don't Cry Over Spilt Milk)
Norway: "Ikke gråt over spilt melk"
Poland: "Nie płacz nad rozlanym mlekiem" (Don't Cry Over Spilt Milk)
Portugal: "O Salvamento do Gobo" (The Rescue of Gobo)
Spain: "No llores sobre leche derramada"
Sweden: "Gråt inte över spilld mjölk" (Video title "Gobos resa" [Gobo's Trip])