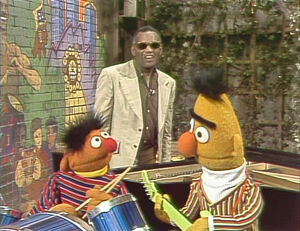 Cartoon: A man plays several letters of the alphabet as if they were musical instruments.
Mr. Hooper is well taken care of at the hospital. A kid in a wheelchair becomes his friend.
Cartoon: A man finds a large log that's perfect for his fireplace, but finds it too heavy to move. So, he moves his house to the log. (EKA: Episode 0939)
Susan takes pictures of Mr. Hooper and his friends at the hospital.
Cartoon: A man talks about going to the city, without noticing he's walking right through it. (EKA: Episode 0843)
Mr. Hooper makes a phone call from the hospital to check on how things are going at his store.