Ad blocker interference detected!
Wikia is a free-to-use site that makes money from advertising. We have a modified experience for viewers using ad blockers

Wikia is not accessible if you've made further modifications. Remove the custom ad blocker rule(s) and the page will load as expected.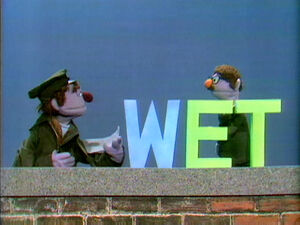 Film: A girl goes to the shoemaker and watches him as he repairs her shoes. (EKA: Episode 1028)
Ernie and Bert: Ernie shows drawings to Bert, and Bert has to guess what happened. Ernie has a drawing of an empty bird cage with an open door (the bird flew away), and a man lying on the ground with a banana peel next to him (he slipped on it). Then Ernie shows Bert an blank piece of paper. The answer to that one is that there was a cow eating grass, but the grass is all eaten now and the cow went home. (First: Episode 0030)
Big Bird tells Susan that he's going to fight the noise pollution on Sesame Street. Sure enough, as he makes comments about them, the horns honking, the jet plane overhead, the motorcycle blasting and the garbage cans being rattled, all become quiet -- because they've already passed by. (EKA: Episode 0335)
In a three-part segment, Herbert Birdsfoot teaches how to read words from the "ET" family, with the help of a disgruntled deliveryman who delivers letters to Herbert. (EKA: Episode 0573)
Film: Children are seen growing up.
Cartoon: Using a poster showing him where each piece goes, a boy puts a model of a monster together. The model comes to life, and scares the monster on the poster.