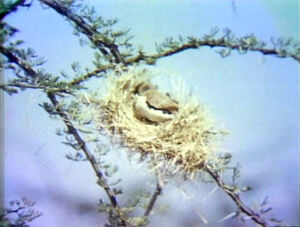 Big Bird wants to warm up Susan's car.
The Martians discover a telephone. They say hello to it, and then try mooing, meowing, and clucking at it. None of these bring any response. Then the phone begins to ring. The Martians, thinking it's talking, start making ringing noises back. (EKA: Episode 0598)
Film: One woman and two men perform acrobatic tricks, demonstrating addition and subtraction. (EKA: Episode 1041)
The Count jumps to keep warm, counting the number of times he jumps.
Film: How offspring are nursed.
David can't remember all the messages he left with him. He puts up a bulletin board on the wall to keep track of messages.
Ad blocker interference detected!
Wikia is a free-to-use site that makes money from advertising. We have a modified experience for viewers using ad blockers

Wikia is not accessible if you've made further modifications. Remove the custom ad blocker rule(s) and the page will load as expected.