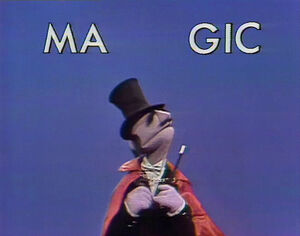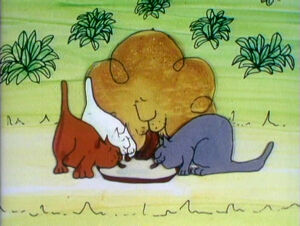 Oscar scatters ashes on the snow.
The Miss Muffet Play: Little Miss Muffet rehearses for a play about her nursery rhyme. At the "Along came a spider" clue, Muffet's co-star enters wearing a number of different animal costumes, including a rabbit and a duck. Miss Muffet becomes increasingly annoyed -- and when he shows up as a fish, she grabs the parts of his fish costume off of him, and puts his spider outfit on. Naturally, once she sees the spider costume on him, Miss Muffet is frightened, and a crazy chase ensues. (EKA: Episode 0280)
Ernie and Bert: Bert notices that Ernie has a piece of string tied on his finger. Ernie says that the string tied on this finger helps to remind him that there's a piece of string tied on this finger. And so on. The string on the last finger is there to remind him that they're out of string. (EKA: Episode 0355)
Cartoon: A boy gets lost, and encounters a man with a yo-yo, who tells him to remember everything he passed. (Artist: Jeff Hale)
Cartoon: A lost man in the desert asks a stranger for directions to the city. He builds a pretend city out of sand to show what it looks like. As it turns out, the stranger is an alien. (EKA: Episode 0811)
Big Bird asks for help, and some children help him.
Cartoon: A woman serves milk to her cat. Several other cats join him, including a lion. (Artist: Bruce Cayard)