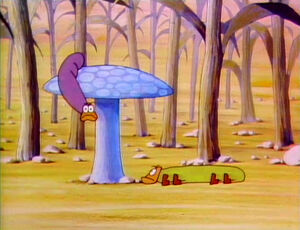 Gordon demonstrates how a telescope is used.
Ernie and Bert: Ernie eats one of Bert's cookies, and doesn't know what to tell him. Bert observes that there are four cookies when there should be five. No matter how Ernie arranges them, there are still four cookies. Since Bert doesn't want to see four cookies, Ernie eats another one, making it three instead of four. (EKA: Episode 0872)
Cartoon: A girl talks about imagination.
Ad blocker interference detected!
Wikia is a free-to-use site that makes money from advertising. We have a modified experience for viewers using ad blockers

Wikia is not accessible if you've made further modifications. Remove the custom ad blocker rule(s) and the page will load as expected.