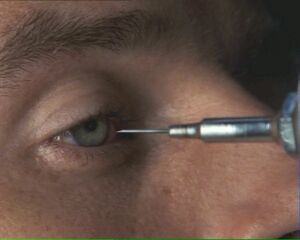 Namtar, a scientist, wants DNA samples from the crew to locate their home planets, however Aeryn Sun is the only one that doesn't take part in it. He manages to locate the planets of Zhaan, Rygel and D'Argo but not the Earth. As payment for the starmaps, he wants one of Pilot's arms, however Pilot is reluctant to give up one of his arms so the three chop off one of his arms.
Aeryn Sun ends up deciding that she wants to find a planet that she can call home, so she visits Namtar alone. However, instead of getting a DNA sample taken, she gets injected with Pilot's DNA that slowly transforms her ito one of Pilot's species
Guest stars
Adrian Getley (Namtar), Julian Garner (Voice of Namtar), Sarah Burns (Kornata)
Notes
Ad blocker interference detected!
Wikia is a free-to-use site that makes money from advertising. We have a modified experience for viewers using ad blockers

Wikia is not accessible if you've made further modifications. Remove the custom ad blocker rule(s) and the page will load as expected.