Ad blocker interference detected!
Wikia is a free-to-use site that makes money from advertising. We have a modified experience for viewers using ad blockers

Wikia is not accessible if you've made further modifications. Remove the custom ad blocker rule(s) and the page will load as expected.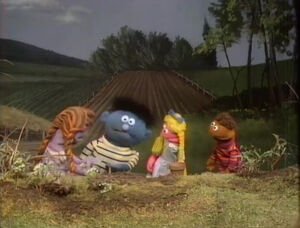 Four Muppets cooperate to grow a flower together. One has a flower seed, one has a flower pot, one has some dirt, and one has a shovel. The rain and sunshine finish the job. (EKA: Episode 0311)
Cartoon: An old woman goads a man into guessing who she met today. Through the clues she gives, he soon finds out she's referring to him. (Arist: Bruce Cayard) (EKA: Episode 0812)
Ernie and Bert: Bert is reading a book when Ernie startles him by asking if he wants to play checkers. Bert says, "I thought maybe you weren't here!" Ernie starts to search to see if he can find himself. (EKA: Episode 0272)
Animation: A red ball with dots tries to join a group of red balls with black stripes. (EKA: Episode 0839)
Cookie Monster: Cookie Monster comes to the bakery looking for something delicious that rhymes with BUY. He tries the I (from the MIKE'S BAKERY sign) and the baker's TIE, both of which aren't that delicious. Finally, Guy Smiley comes in and loudly announces that he would like to BUY a PIE. Cookie then knows what he can get in the bakery that rhymes with BUY and is delicious: it's GUY! A chase ensues, and Cookie requests for the baker to send him the bill. (EKA: Episode 0519)
Cartoon: A girl thinks about what might happen if she popped a balloon behind her friend Donald.