Episode 1097
Talk

0
26,846pages on
this wiki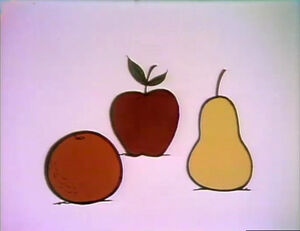 Cartoon: An apple, an orange and a pear learn they can cooperate by rocking and rolling.
Western: Four Anything Muppet cowboys put up a Wanted poster for "the Great Cookie Thief", who's been stealing cookies from all the bakeries in these here parts. Cookie Monster is standing in front of the poster, and the others suspect that he's the Great Cookie Thief -- he has the same googly eyes, the same blue fur, and the same Western hat. They confront Cookie Monster, but he denies the charge: "Not have same mustache!" He shouts, "Look over there!" -- and while they're distracted, he draws a mustache on the poster. They apologize -- but then Cookie Monster takes off his hat, and cookies fall out. The Great Cookie Thief makes his escape. (EKA: Episode 0276)
Cartoon: What kind of print does a hand make?
Oscar counts down from 20 to 1 to launch his homemade rocket off into space.
Cartoon: Sally the Spider skates with different combinations of her legs. (EKA: Episode 1000)