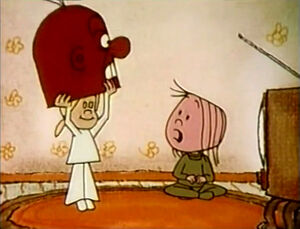 Film: "At the Animal Doctor": Two boys take their dog to the vet. (EKA: Episode 1016)
Cartoon: A little girl frightens another girl with a mask. (EKA: Episode 0597)
Oscar gives out presents he brought back from Hawaii.
Cookie Monster and Ernie: Ernie tells the viewer to let him know if they see or hear Cookie Monster so he won't take the cookie which Ernie just got from Hooper's Store. Ernie encounters a machine that reads "Your Fortune Told, Insert One Cookie." Not realizing that Cookie Monster is inside the machine, he inserts the cookie. Some munching noises are heard, and a card comes out that says "You will soon be kissed by a grateful Cookie Monster." (EKA: Episode 0746)
Film: Kid voiceovers identify a horse's body parts (shown one at a time), then the complete animal. (EKA: Episode 0813)
Ad blocker interference detected!
Wikia is a free-to-use site that makes money from advertising. We have a modified experience for viewers using ad blockers

Wikia is not accessible if you've made further modifications. Remove the custom ad blocker rule(s) and the page will load as expected.