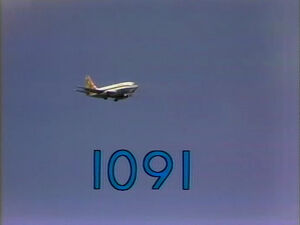 This episode guide is missing segments cut from Noggin's broadcast.
Picture
Segment
Description

SCENE 1
Big Bird is upset that Snuffy missed the plane.




SCENE 1
cont'd
Everyone looks out the window at the beautiful Hawaiian scenery.




SCENE 1
cont'd
The plane finally lands, causing all of Oscar's luggage to fall out of its compartment!

Film
Things that start with M
(EKA: Episode 0813)

SCENE 2
Buffy and Sheldon greet their visitors.

SCENE 2
cont'd
With the help of a helicopter, Snuffy lands in Hawaii.
This portion of the scene appears on 40 Years of Sunny Days.

Cartoon
M in space
(EKA: Episode 0842)

Muppets
Ernie and Bert: Ernie is thirsty, and imagines that he's drinking nice cold water. Irritated, Bert tells him to go get a real glass of water. Ernie does, but then he annoys Bert by saying that now he's hungry. He then proceeds to eat an imaginary peanut butter and banana sandwich.
(EKA: Episode 0679)




SCENE 3
At the baggage claim area, Maria gives a Hawaiian lei to Oscar.

Muppets
Herbert Birdsfoot wants to demonstrate the letter M. Grover enters, making "Mmmmm" noises, so Herbert uses Grover to help him tell a story using M words. When the story is over, Herbert discovers that Grover's mouth is stuck together after eating peanut butter.
(EKA: Episode 0276)

Muppets
Two Anything Muppets sing the "City-Country Song" about the difference between life in the country and life in the city.
(EKA: Episode 0681)

SCENE 4
Big Bird and the gang board the truck and head out to the Indian reservation where Buffy lives.

SCENE 4
cont'd
Along the way, they stop at a fruit stand, where they observe several kinds of fruit that Mr. Hooper doesn't carry in his store.

SCENE 4
cont'd
Finally, they arrive at Buffy's teepee.

Film
Apple tree
(First: Episode 0093)

Cartoon
Sand M/m

Muppets
Grover demonstrates how a phone booth is used, but it becomes crowded when he receives a call asking for "Mondipoorg."
(EKA: Episode 0675)

Film
Empty / full classroom (time-lapse)

Cartoon
Workmen construct a D building, filled with everything that begins with D.
(EKA: Episode 0406)
This segment was cut from the Noggin version.

SCENE 5
Oscar likes it in Buffy's teepee.

SCENE 5
cont'd
Buffy's friends and neighbors arrive on a fire truck, and everyone meets for the first time.

Song
Joe Raposo sings "Two is You and Me."

Muppets
Cookie Monster sounds out the word FOOD, then eats it.
(EKA: Episode 0723)

Film
Marching band: The bandleader wants the drummer to beat the drum two times.
(EKA: Episode 0666)

Cartoon
A photographer tries to look for some animals quietly, but they all end up secretly following him.
(EKA: Episode 0845)
This segment was cut from the Noggin version.

SCENE 6
Olivia and Maria admire the orchids, and compare them to the flowers they have back home.

Film
Two birds
Music: Joe Raposo
(EKA: Episode 0309)

Celebrity
Bill Cosby demonstrates sad.
(EKA: Episode 0163)

SCENE 7
Big Bird finds Snuffy by a lake.

Celebrity
Bill Cosby demonstrates happy.
(EKA: Episode 0172)

Film
Where the buffalo roam ...
(EKA: Episode 0814)

Muppets
Muppet & Kid Moments: Bert tells John-John that he's lost his paper clips, and he feels sad. He asks John-John to show how he looks when he feels sad. Then Bert feels angry about losing his paper clips, and John-John acts out that emotion. Bert remembers where he left his collection, and John-John acts happy, too.
(EKA: Episode 0729)

Film
George the Farmer demonstrates empty and full.
(EKA: Episode 0974)

SCENE 8
At the campfire, Keola Beamer plays a nose flute, and Buffy plays a mouth bow. The pair play "Codioco".




SCENE 8
cont'd
Keola tells, in story and song, the legend of Mount Ihu Papa'a Lo'ihi Nui ... a.k.a. Mount Snuffleupagus!

SCENE 8
cont'd
Now Big Bird knows what to do in Hawaii ...

Muppets
Farley looks for his lost toy box.
(EKA: Episode 0757)

Celebrity
Bill Cosby demonstrates silly.
(EKA: Episode 0168)




SCENE 9
Everyone says good night. Big Bird vows to search for Mount Snuffleupagus. Maria announces the sponsors.

The story of the Hawaii trip continues in episode 1092...
Ad blocker interference detected!
Wikia is a free-to-use site that makes money from advertising. We have a modified experience for viewers using ad blockers

Wikia is not accessible if you've made further modifications. Remove the custom ad blocker rule(s) and the page will load as expected.