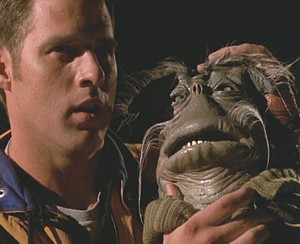 Rygel is sick with the Klendian flu, so the others have gone down to the surface of a nearby planet to locate a cure for him. While on the planet John Crichton meets Igg, a man dressed like a jester, that apparently knows a lot of things about Crichton and claims that a man named Haloth are able to help him. Crichton enters a magically sealed door to meet Haloth that wants to help him to meet and talk with Crais, however Haloth turns out to be the sorcerer Maldis in disguise. His real intentions is to have Crais and Crichton fight and have Crais rage against Crichton raised and then send Crais back to his Peacekeeper command carrier so that it can cause a lot of havoc in the uncharted territories, and there by feed of the deaths it will cause.
Zhaan teams up with Liko to defeat Maldis, however to defeat him it requires that Zhaan will be able to cause pain and kill, a side of her that she would rather not have reappear.
Guest stars
Chris Haywood (Maldis, Igg, Haloth), Lani John Tupu (Crais), Grant Bowler (Liko), Christine Stephen-Daly (Lt. Teeg), Jake Blundell (Orn), Wadih Dona (Tauvo Crais), Vic Rooney (Josbek), Gerry Day (Crais' Father), Errol Henderson (Peacekeeper Doctor), Duane Johnson (Young Bialar Crais), Leilani Johnson (Young Girl)
Notes
Ad blocker interference detected!
Wikia is a free-to-use site that makes money from advertising. We have a modified experience for viewers using ad blockers

Wikia is not accessible if you've made further modifications. Remove the custom ad blocker rule(s) and the page will load as expected.