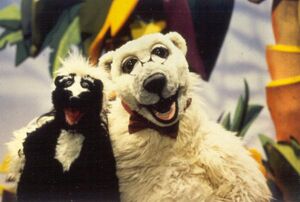 Plot
Jake is late, so Stinky invited the guests--and invites himself.
Segments
Opening
That's Amazing: A deadly caterpillar
Guest: Victor the Rattlesnake from the Southwestern United States
Baby Talk: Musk ox play hide-and-seek
Song: Let Me Be Your Song
Tizzy's Quiz: How does a moth frighten predators?
Yves St. La Roache: cancels his segment on how to eat like a rattlesnake because he is on the phone with his mother
Guest: Stinky the Skunk
Song: Stinky sings The Skunk Song
Animal Awards: Best jumping invertebrate
Story: Stinky (represented by a real skunk) runs into a snake
Habitat Time: North American prairie
Tizzy's Quiz: How do weeverfish protect themselves?
Closing
Performers
Ad blocker interference detected!
Wikia is a free-to-use site that makes money from advertising. We have a modified experience for viewers using ad blockers

Wikia is not accessible if you've made further modifications. Remove the custom ad blocker rule(s) and the page will load as expected.