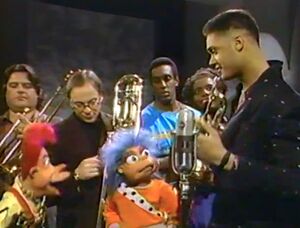 A TV crew is coming to Faffner Hall for a special on the building; the regular residents hope it makes for good publicity. Farkas Faffner, however, has another scheme: he wants to turn the hall into an amusement park! Mimi and Riff are set to perform for the program and are sent by Farkas to measure all 1,177 rooms of the building. The two get lost along the way and to find their way back, they must learn how to improvise with music.
Helming the TV crew is a Muppet parody of director Peter Harris.
The musical guests are the Gil Evans Orchestra and Ladysmith Black Mambazo.
Ad blocker interference detected!
Wikia is a free-to-use site that makes money from advertising. We have a modified experience for viewers using ad blockers

Wikia is not accessible if you've made further modifications. Remove the custom ad blocker rule(s) and the page will load as expected.