All Washed Up
After being washed, Ditz's arms are stuck upwards. He finds out he can use his stuck arms to help his friends, but then his arms get loose again...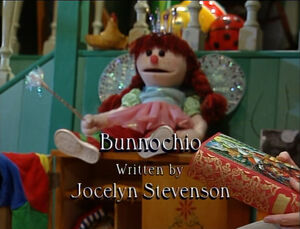 Bunnochio
Bunny Lamp wants to be a real toy, and Fairy Godmother Raisin grants his wish.
Video releases
Ad blocker interference detected!
Wikia is a free-to-use site that makes money from advertising. We have a modified experience for viewers using ad blockers

Wikia is not accessible if you've made further modifications. Remove the custom ad blocker rule(s) and the page will load as expected.