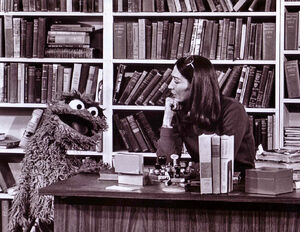 The bookmobile stops at Sesame Street and everyone looks for books they would enjoy reading.
Super Grover: A girl on a farm needs help carrying many boxes. Super Grover suggests gluing them together, but the girl eventually figures out that taking them one at a time will work. (EKA: Episode 0980)
Today's Secret Drawing: An ornate drawing of a "spaceman," complete with rocketship and American flag, depicted on the Moon (which according to the kids, is made of blue cheese). (EKA: Episode 0272)
Olivia sings about places where people live in other parts of the world.
Film: Most animals have two eyes, ears, etc. ... but some snakes have two heads. (EKA: Episode 0331)
Oscar looks for a grouch cookbook at the bookmobile.
David, alone on a desert island, finds a bottle with a genie (Maria) inside it, and wishes for a boat. But Maria keeps mishearing the request and instead gives him a coat and a (live) goat. Finally she gives him a boat ... but it's not the kind of boat he was hoping for. (EKA: Episode 0536)
Animation: Two lines intersect at the middle of the screen and have an argument; they cooperate by making a cross. (EKA: Episode 0276)
Ad blocker interference detected!
Wikia is a free-to-use site that makes money from advertising. We have a modified experience for viewers using ad blockers

Wikia is not accessible if you've made further modifications. Remove the custom ad blocker rule(s) and the page will load as expected.