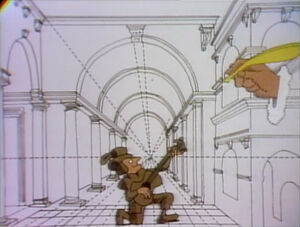 Cartoon: A hand draws a guitarist serenading a maiden, as well as the background. (EKA: Episode 0822)
Film: kids narrate a visit to an automobile factory, and watch a taxi being made. (EKA: Episode 0242)
A girl has difficulty making a sandwich.
Children put together the parts of a scooter.
Big Bird has difficulty taking a picture of his friends.
Film: As a boy plays with a tugboat in the bathtub, we watch footage of a real tugboat.
Ad blocker interference detected!
Wikia is a free-to-use site that makes money from advertising. We have a modified experience for viewers using ad blockers

Wikia is not accessible if you've made further modifications. Remove the custom ad blocker rule(s) and the page will load as expected.