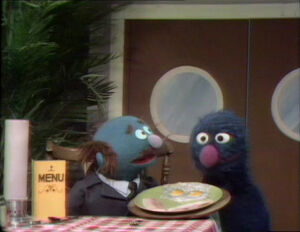 Cartoon: A king washes and changes clothes after being told his face is dirty. (Artist: Bruce Cayard)
Hubley animation: A penguin repeats the rhythms of the sounds it hears, which include a drum, a door knock, a saw and a typewriter. (EKA: Episode 0272)
A mechanic tunes the engine of Gordon's car.
Silent film: Two men (played by Richard Belzer and Brian Doyle-Murray) are about to share a picnic lunch, but first decide to try rowing a boat on the lake. A brown dog arrives and starts to eat the sandwiches. Panicking, the men try to steer the rowboat back to the shore but they can't direct the boat. Eventually, they realize that to return they must cooperate. They get back just in time to take back the last wrapped sandwich out of the dog's mouth.
Susan and children imagine they are driving.
Ernie and Bert: Ernie comes home to a sleeping Bert and tries to think of things to do that won't wake him up. He can't watch TV, and he can't play with his ball. Bored, he decides to take a nap too -- but then he starts to snore. This awakens Bert, who wonders out loud where the noise is coming from, in the process arousing Ernie, who gets mad at being woken up. (First: Episode 0280)
Ad blocker interference detected!
Wikia is a free-to-use site that makes money from advertising. We have a modified experience for viewers using ad blockers

Wikia is not accessible if you've made further modifications. Remove the custom ad blocker rule(s) and the page will load as expected.