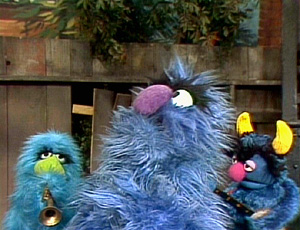 Children work together in painting a picture.
Hands deal cards from 12 to 1.
Big Bird packs for his trip to Hawaii.
Cartoon: Three cuckoos go to work in their cuckoo clock to announce the time. (EKA: Episode 0560)
Cartoon: What if a mouse and an elephant switched bodies? (EKA: Episode 0343)
Lefty the Salesman wants to sell Ernie a painting of a tree, which he says is a picture of four elephants. Ernie doesn't see the four elephants, so Lefty offers to show him the elephants if Ernie will buy the picture for a nickel. Lefty points out the elephants, which are actually spaces in the tree's branches. Ernie shells out for the picture. Ernie wants to pull the same trick on Bert, but Bert notices the elephants right away. (First: Episode 0278)
Cartoon: A man explains that the letter E begins both Enter and Exit. Another man named Roy runs through the doors. (EKA: Episode 0406)
Ad blocker interference detected!
Wikia is a free-to-use site that makes money from advertising. We have a modified experience for viewers using ad blockers

Wikia is not accessible if you've made further modifications. Remove the custom ad blocker rule(s) and the page will load as expected.