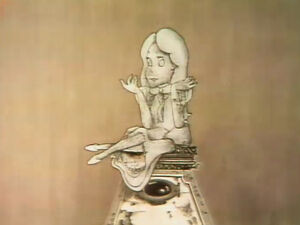 Big Bird dreams about a big bowl of hot birdseed.
Animation: Children use clues to draw a picture of a chicken. (EKA: Episode 0838)
A cowboy recites the alphabet in five seconds.
Cartoon: A girl imagines she's a rock, which becomes a statue. (EKA: Episode 0773)
Ernie and Bert: Ernie is sad, because it's raining and he can't play baseball. Bert encourages him to imagine that he's playing instead. In Ernie's imagination, he hits a high fly ball that lands in the ocean. Bert tells Ernie that the sun is out, and he can go out and play now. Ernie says that he can't play -- his ball fell in the ocean. (EKA: Episode 0678)
Cartoon: A hand draws a manhole.
Song: "Como Estas, Luis?"
A television quiz show audience tries to guess what is red and round.
Shapes are found all over everyday objects on Sesame Street.