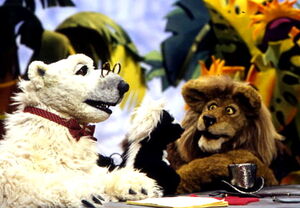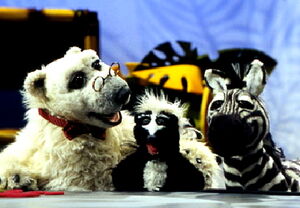 Stinky is obsessed with the circus since the lion is a guest.
Segments
Opening
That's Amazing: A fish that can live out of water.
Guest: Chuck the Lion
Baby Talk: A mountain lion cub explores
Song: Sweet Tooth Jam
Tizzy's Quiz: Four types of animals are called lions--what are they?
Yves St. La Roache: making a roasted chicken from grass.
Guest: Randall the Zebra
Song: Randall sings The Zebra Song
Animal Awards: The largest meat-eating animal on land?
Story: A lion finds a walking rock (tortoise)
Habitat Time: African water hole
Tizzy's Quiz: Which of four striped animals is not a zebra?
Closing
Performers
Releases
Ad blocker interference detected!
Wikia is a free-to-use site that makes money from advertising. We have a modified experience for viewers using ad blockers

Wikia is not accessible if you've made further modifications. Remove the custom ad blocker rule(s) and the page will load as expected.