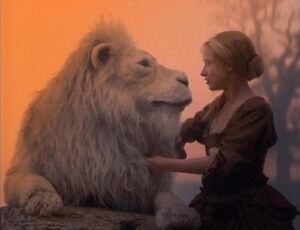 The True Bride aired as the second half of Episode 108: Videotape of The Jim Henson Hour. It was not seen again in the United States until Jim Henson's The StoryTeller began airing on HBO in 1997.
"The True Bride" tells the story of Anja, and how she is freed from the grasp of an evil Troll with the help of The Thought Lion. The lion aids her again when she loses her beloved to the troll's daughter.
The Thought Lion became the mascot of The Jim Henson Hour, appearing in introductions and closings alongside Jim Henson.
Cast
External links
Ad blocker interference detected!
Wikia is a free-to-use site that makes money from advertising. We have a modified experience for viewers using ad blockers

Wikia is not accessible if you've made further modifications. Remove the custom ad blocker rule(s) and the page will load as expected.