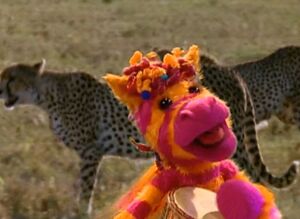 Edi the Zebra is frustrated that she can't keep up with Waffle's ability to do things with extreme speed like a cheetah. Waffle does things with extreme speed so he has a lot of free time to do whatever he wants to do, but he ends up playing with his tail. Edi later learns that it's OK to go "at your own pace" while Waffle learns to respect the "natural speed" of other creatures.
At the DJs' workstation, the DJs have a race to see which one is the fastest after DJ 3 claims that since he is a leopard that they are fast. He ends up being the slowest out of the other DJs in the race.
Songs
Animal On The Go
Hummingbird-Banana Slug
Bozark Hummin
Ad blocker interference detected!
Wikia is a free-to-use site that makes money from advertising. We have a modified experience for viewers using ad blockers

Wikia is not accessible if you've made further modifications. Remove the custom ad blocker rule(s) and the page will load as expected.