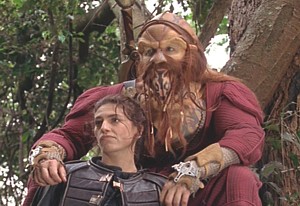 A Peacekeeper beacon goes off inside Moya, and the Leviathan has to land on a planet to muffle the signal. Rygel performs an operation to cut the beacon out of Moya's neural net, while Crichton searches for an element on the planet that will help to numb Moya's pain. Crichton encounters a scientist on the planet who has been searching for extraterrestrial life; she and her son have to hide him from the military.
Guest stars
Mary Mara (Lyneea), Cayde Tasker (Fostro), Boris Brkic (Ryymax), Mark Shaw (Alien Soldier #1), Dominic Bianco (Alien Hunter #1), Heath Wilder (Alien Hunter #2), Cameron Smith (Unspecified voice).
Notes
References
Crichton says that the bog Moya lands in reminds him of Louisiana -- or Dagobah. He explains to Aeryn that Dagobah is where Yoda lives: "Just a little green guy. Trains warriors."
Ad blocker interference detected!
Wikia is a free-to-use site that makes money from advertising. We have a modified experience for viewers using ad blockers

Wikia is not accessible if you've made further modifications. Remove the custom ad blocker rule(s) and the page will load as expected.