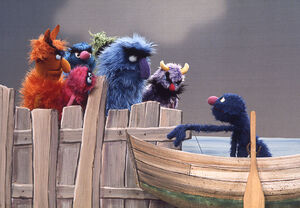 Grover: In a three-part sketch, Grover and a group of monsters, including Herry Monster, Fenwick and Billy get into a rowboat. In part one, the monsters all gather at one end, causing the boat to tip over. In part two, they gather on the other end, and the boat tips over again. In part three, the monsters spread out over the boat evenly, and row away. (EKA: Episode 0877)
Oscar falls in love, and sings a love song.
Film: The making of a jumpsuit, from the initial design to the finished product (EKA: Episode 0956)
Film: A little boy needs help carrying four ice cream cones.
Oscar and a friend disagree on what they want to do.
Waiter Grover: Grover brings Mr. Johnson a bowl of alphabet soup. Mr. Johnson complains that some of the letters are missing, and makes Grover run back and forth to the kitchen to bring the missing letters. When all the letters are there, Johnson complains that the soup is cold, and makes Grover take it back. (First: Episode 0276)
What to do if your ball rolls into the street.
Ad blocker interference detected!
Wikia is a free-to-use site that makes money from advertising. We have a modified experience for viewers using ad blockers

Wikia is not accessible if you've made further modifications. Remove the custom ad blocker rule(s) and the page will load as expected.